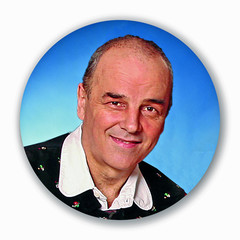 Tone Štritof
Bas kitara, bariton, berda, prvi bas
Član ansambla
1988 – 2011
He came from Kamnik family and fell in love with Slak's music and Dolenjska region. He was a commercialist by education, but otherwise a versatile musician, instrumentalist, vocalist and music teacher.
He collaborated with the Ensemble of Lojze Slak and with singing group Fantje s Praprotna for 26 years, joining them as the youngest member in 1988. At first he played only in a trio, and then he sang the first bass in the singing quartet Fantje s Praprotna.
He wrote many musical arrangements and compositions for the ensemble and the quartet, the most famous of which are: Dragi prijatelji (Dear Friends), Na Dolenjskem je lepo živet' (It is nice to live in Dolenjska), Pomlad (Spring), etc.
As a music teacher, he shared his musical knowledge with great joy and dedication to young students and his son Tim, who also became an excellent musician, trumpet player and drummer.
(December 4, 1961, Ljubljana - October 18, 2014, buried in Kamnik)